Our editors independently research, test, and recommend the products. We may receive commissions on purchases made from the links at no cost to you. You can learn more about it here.
By definition bridge kitchen faucets are faucets in which levers and the faucet itself are connected and branch off of one part. These faucets are said to be first built in the early 1900s and are known to be the first attempt at mixing hot and cold water. However, modernized versions of this faucet are now being used in contemporary style kitchen, bathroom, etc. setting.
In faucets with two handles, there is a connection of some sort that connects hot and cold water inflows so that the temperature of the water is mixed in the faucet before it reaches the spout. Nowadays most kitchen faucets have this connection hidden but bridge faucet, a variation of two handle faucet, has this connection visible. i.e. the tube connecting hot and cold water can be seen.
These faucets are basic kitchen tools and without them, it would become harder to carry out daily chores. Some of the best bridge kitchen faucets include the following:
Bridge Kitchen Faucets Reviews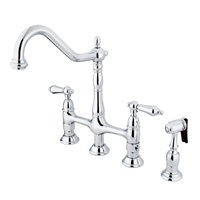 Kingston Brass KS1271ALBS

Color: Polished Chrome

Material: Brass

Flow Rate: 1.8 GPM

No. of Handles: 2

Weight: 8.1 pounds

Size: 13 x 8.8 x 8 inches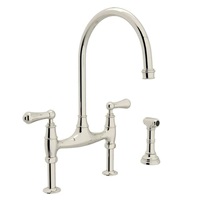 Rohl U.4719L-PN-2

Color: Polished Nickel

Material: Metal

Flow Rate: 1.5 GPM

No. of Handles: 2

Weight: 7 pounds

Size: 8.9 x 9.9 x 16.4 inches
Kingston Brass KS1276AXBS

Color: Polished Nickel

Material: Brass, Nickel

Flow Rate: N/A

No. of Handles: 2

Weight: 8.95 pounds

Size: 13 x 8.8 x 2.1 inches
Rohl A1458LMWSPN-2

Color: Polished Nickel

Material: Brass

Flow Rate: 1.5 GPM

No. of Handles: 2

Weight: 13 pounds

Size: 17.2 x 11.2 x 4.5 inches
KOHLER K-7337-4-S

Color: Polished Stainless

Material: Stainless Steel

Flow Rate: 2.2 GPM

No. of Handles: 2

Weight: 10.22 pounds

Size: 25.2 x 19.8 x 2.5 inches
Kingston Brass KS1271ALBS Heritage
This beautifully designed, timeless faucet is one of its kind. As the name suggests, it is indeed traditional and timeless, with its early American theme it gives a vintage look to your house setting. This faucet is made with solid brass construction which provides its durability and strength. Due to its solid brass construction, it requires minimum care which is great in the long term. Apart from all of this it also prevents corrosion and leakage. The faucet is also compliant with California Energy Commission Title 20.
Rohl U.4719L-PN-2 Perrin and Rowe Bridge Style Kitchen Faucet

This faucet is distinct because of its classic, ornate English styling. This type of faucet works well with contemporary as well as traditional settings. The faucet is not only for show's sake but it also has great functionality. It is built with all the latest technologies to make your life convenient. This faucet comes in polished nickel and side spray. The faucet also has a hot and cold mix at the hand spray. Its polished nickel along with giving it a sleek look also prevents corrosion, tarnish and rust. It also has a limited lifetime warranty.
Kingston Brass KS1276AXBS Heritage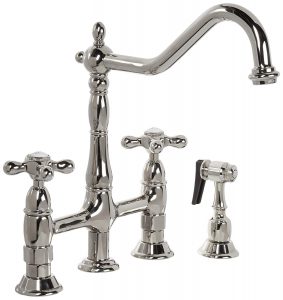 This Victorian styled faucet is versatile and is suitable for any house setting. It looks very elegant wherever you decide to add it. This faucet is specifically designed keeping in mind traditional décor. It also has a Victorian spout. The faucet is of brass construction and is polished nickel which saves it from rust, corrosion, etc. for additional cleaning power the faucet also has a brass sprayer that matches it perfectly. This traditional/ vintage looking faucet could say to be the perfect example of a mixture of old and new as it uses modern technologies for functionality but looks like it has come from a Victorian-era directly.
Rohl A1458LMWSPN-2 KITCHEN FAUCETS
This Rohl Country kitchen faucet is very elegant looking and gives your kitchen the traditional yet classy look you are going for. Its special feature is its spout height which is 9-1/4 inch. Built-up of brass construction and the polished nickel provide it protection from rust, corrosion, etc. it also comes with a side spray that allows you to efficiently clean and fills utensils, etc. These bridge faucets are a link between old and new sanitary types of equipment, the technology of modern-day with vintage style.
KOHLER K-7337-4-S HiRise
This uniquely designed faucet is perfect for traditional and utilitarian kitchen design. This faucet avoids rusting and corrosion as it is made with stainless steel. This also provides the faucet durability and aesthetic look. This kitchen faucet is a double handled deck mounted bridge with 8" centers. The spout of the faucet moves 360 degrees which is ideal for large utensils, pans, and pots, etc. It also includes configuration for primary, secondary and entertainment sink applications. This uniquely styled faucet not only provides pleasing aesthetics but also has great functionality.
Kingston Brass KS1278ALBS Heritage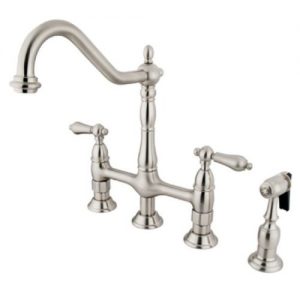 This beautifully designed faucet is true to its name as it gives the vintage aesthetic to your kitchen, bringing the colonial elegance to your house. This faucet has brass construction with matching brass sprayer included. These side sprays are a great convenience for kitchen chores as it helps in cleaning efficiently by reaching the hard to reach areas easily. These side sprays also have a one-touch operation which makes them even more convenient to be used in the kitchen. Installation is easy for these faucets with the four-hole installation.
ROHL A1461LMWSPN-2 KITCHEN FAUCETS
If you want to bring Italian brilliance to your home and kitchen then these faucets are ideal for you. These top-quality faucets are built to give your house the traditional and elegant look you are looking for. The quality of these faucets can be observed by just the heavyweight of their metal construction. They also have ceramic disc control cartridges along with 8 15/32" reach swivel spout. These faucets require 4 holes installation with no requirement of batteries.
Rohl U.4718X-PN-2 Perrin and Rowe
This top-quality faucet is built with so much elegance that it gives a brilliant look in your kitchen no matter which style you are going for, its versatility makes it look good in any setting. This faucet has a cross handle and the hand spray is insulated. It also has a hot and cold water mix at side spray. The side spray is ideal for filling and cleaning large pots, especially. Its brass construction prevents it from rust and corrosion. This faucet is built to make your kitchen and day to day chores easier.
Brienza by Italia, N96718-AC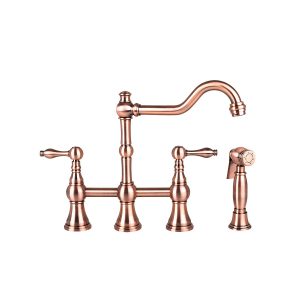 This antique metal-colored faucet is so pretty to look at and they fit perfectly well with any house setting. It has a full 360-degree rotating spout as well. This faucet is built to make your work easy and so at the handle buttons, H and C are etched beautifully in cursive to differentiate between hot and cold. The installation is also very convenient with its quick-connect fitting that comes for the hose connection. The operation of this faucet is also very smooth but the sturdiness of the design gives it a durable check.
Moen S713 Waterhill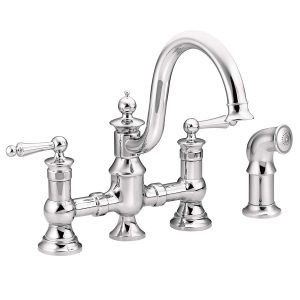 Its versatile design has a chrome finish which gives these faucets a mirror-like reflective look that goes with any house and kitchen setting. This faucet also has two handle levers which make it easier to adjust the temperature of the water. It also comes with a side spray, this side spray is convenient and flexible to operate and allows you to clean larger pots much more carefully and efficiently. With its Duralock Quick Connect system, it is very easy to install as well. It is also ADA compliant and comes with Moen's limited lifetime warranty.
Conclusion
These best bridge kitchen faucets are for those people who are looking for a vintage look in their kitchen. Along with providing the aesthetics, these faucets are some of the best and high-quality faucets available.